Erna van Wijngaarden - voor een kerkelijke uitvaart zonder kerk
| | |
| --- | --- |
| Posted on 14 September, 2020 at 10:05 | |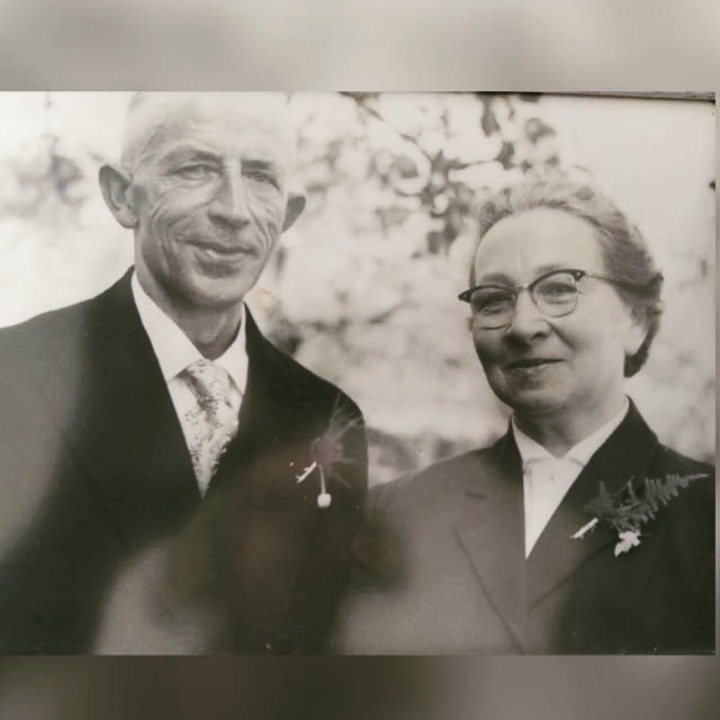 Naoberschap
De buren komen ook waken. Dezelfde buren met wie vroeger bij feesten tafellakens en het zondagse servies werd uitgewisseld. Veel te broos zijn ze, deze oude mannen, om mijn opa het huis uit te dragen, de kerk in en de begraafplaats op. Maar mijn opa is geen last voor hen, hij is bijna 100 jaar hun noaber geweest. Na jaren in het westen van het land gewoond te hebben, leek het voor mij folklore te zijn. Tot nu. Nu ontroert het me.
Happy hour
Alle buren komen ongenodigd langs – de achterdeur is immers altijd open. Ze blijven echter maar even en condoleren oma en de aanwezige tantes. Happy hour de godganse dag, maar boodschappen, eten en de vaat, alles gebeurt als vanzelfsprekend. Oma is geen moment alleen. Achterblijvers blijven hier niet alleen achter.
Avondwake
Na vijf dagen is de avondwake in de kerk. De eeuwenoude liturgie blijkt een soort invuloefening: voorgegeven liederen en lezingen in een paars katern, om nog enigszins het gevoel te hebben dat er iets te kiezen valt. Meenemen mag niet, wat ik natuurlijk wel doe. Ook de naam van míjn opa wordt ingevuld waar kruisjes staan. Bij de Latijnse mis de volgende dag is het niet veel anders. Zelfs de preek bevat niet meer dan enkele zinnen die ècht op opa van toepassing zijn. De pastoor is er nog niet zo lang.
Troost
Maar toch. Toch is dit ontegenzeggelijk troostend. Geen onderscheid tussen arm en rijk – voor iedereen hetzelfde ritueel. Wetend dat het altijd zo gaat, maakt dat je je deel voelt van het grotere geheel. De wierook die omhoog kringelt als eerbetoon aan iedere gestorven mens, de Latijnse mis die al honderden jaren klinkt – zo wordt ook míjn opa het paradijs ingezongen. Ik weet het, met mijn ogen dicht.
En nee, zo wil ik mijn eigen afscheidsdienst niet. Ik wil Selig sind die Toten van Hugo Distler, en psalm 100 van Benjamin Britten. Ik wil dat in een preek mijn leven verbonden wordt met psalm 139 – als het even kan.
Precies zoals ik het doe voor al die mensen voor wie ik hun uitvaart mag verzorgen. Ik probeer de betekenis van iemands leven te beschrijven door lijnen te trekken tussen goede en slechte herinneringen en karaktereigenschappen, en een Bijbeltekst, lied of gedicht. Uiterst persoonlijk dus.
En toch. Toch is het op de een of andere manier zeer rustgevend en troostend als dat allerindividueelste weggelaten wordt en het simpelweg de kèrk is die begraaft. En niet Erna van Wijngaarden, de aardigste pastoor of de meest welbespraakte dominee. Nooit meer een teleurstellende uitvaart, zonder dat er recht gedaan wordt aan de overledene, zonder troost. https://www.uitvaartvoorganger.com/apps/blog/show/46986668-een-dodelijke-uitvaart" target="_blank">Zo'n uitvaart heb ik als eens eerder beschreven. Op zo'n moment is weten wat je krijgt goed genoeg. Of zelfs het beste wat je je kunt wensen.
Herinneringen ophalen deden we met de hele familie en alle buren bij de koffietafel met krentenwegge in het café tegenover de begraafplaats.
@ireneogierwind #uitvaart #rouwen #rouwenverlies #troost #crematie #rituelen #uitvaartzuidholland #ceremonie #overlijden #overleden #opa #oma #condoleren #rustzacht #verdriet #missen #loslaten #houdenvan #uitvaartwinkel #herinneringen #rouwbegeleiding #verlies #afscheidnemen #pratenoverdedood #uitvaartritueel #dood #rotterdam #uitvaartonderneming #uitvaartverzorger #uitvaartbranche
Categories: None
/